Strategic Investment Program / Dean's Investment Group
Strategic Investment Program
Developed by the Economics Department and offered through UCSB Extension, the Strategic Investment Program (SIP) is designed to provide participants with a solid foundation in key practical aspects of investing and financial economics.
SIP gives students the opportunity to gain skills and knowledge that can be directly applied in the investment arena. The certificate also demonstrates to current and prospective employers evidence of recent professional training in this field. In some cases, course work may also be applied toward continuing education requirements in fields such as accounting, law, and finance, or other forms of career advancement.
The program consists of lectures, guest speakers, and hands-on projects.
What you'll learn

Principles of Micro and Macro Economics
Quantitative and Impact Investment Strategies
Risk Management
Principles of Finance and Financial Accounting
Ethics in Finance
Fundamentals of the Real Estate, Bond, and Stock Markets

How to enroll

Visit the Professional and Continuing Education website to enroll. You will also find an up to date course schedule there.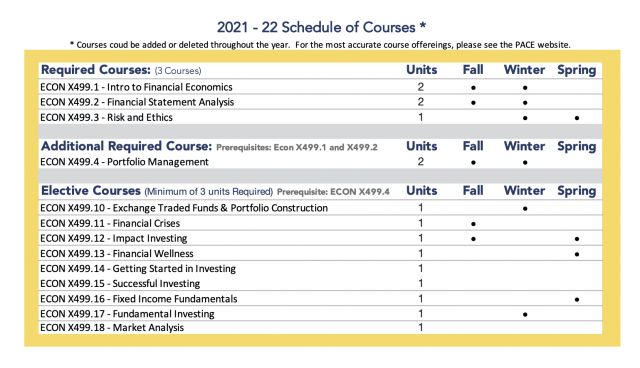 Dean's Investment Fund and Dean's Investment Group
The UC Santa Barbara Dean's Investment Fund, established through generous support from alumni, department supporters and the business community, is designed to provide UCSB undergraduates an opportunity to interact with professionals in the investment arena and give students invaluable first-hand experience as part of the investment team. The Dean's Investment Fund will serve as an important bridge between financial theory and the workings of real-world capital markets for UCSB undergraduates.
How to participate in the Dean's Investment Fund

Students interested in participating with the Dean's Investment Fund must apply to be a member of the Dean's Investment Group (DIG). DIG is comprised of eight student members selected through a competitive interview process.

All students must complete the Strategic Investment Program (SIP) before their participation in DIG officially begins, but they can apply before completing the certificate.

The investment fund account portfolio will be actively managed by DIG under the oversight of the Advisory Board and Faculty Advisors.

Interviews for the following academic year will take place at the end of winter quarter. The exciting opportunity is a joint venture between the Division of Social Sciences and the Department of Economics.

For more information, please email Courtney at courtney@econ.ucsb.edu

Meet the current DIG Student Members

 Angelica Cedillo

 Amner Guzman

 Booker Jones

 Cassie Gao

 Christina Lam

 David Civil

 Jackson Bender

 Robbie Lee

 Sahil Vig

 Victor Wei

DIG Advisory Board

 George Tharakan

 Jeffrey Youngman

 Jonah Stowe

 Lindsey Wilde

 Mitchell Kauffman

 Mike Trovato

 Rod Scherba

 Marc Ackerman

 Robert Kahn

 Rafael Costas

 Christian Treitler
Meet the DIG Advisory Board Members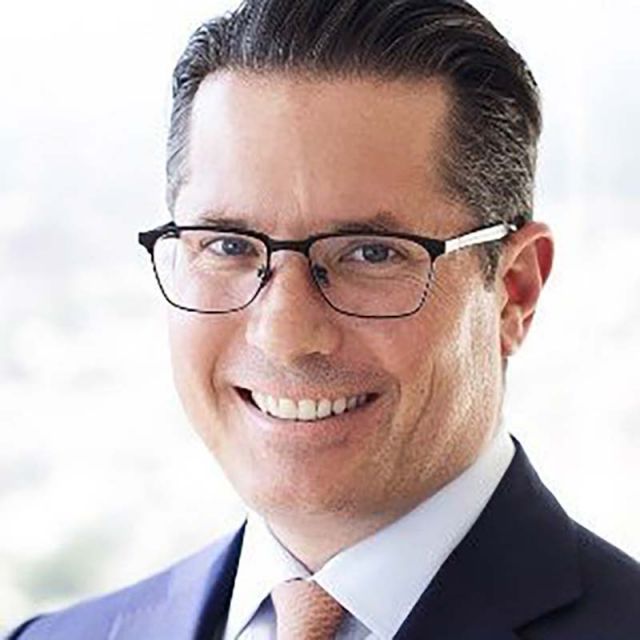 Marc A. Ackerman '94
Mr. Ackerman is Senior Financial Advisor of Wells Fargo Advisors, LLC. For over 18 years, he has been advising company founders, entrepreneurs, executives, corporations, foundations, and multi-generational high net worth families. He is part of Wells Fargo Advisors Retirement Plan Advisor Program which is reserved specifically for advisors who have demonstrated extensive experience in helping businesses design, build, administer, and review corporate retirement plans. He is also a member of the Investments & Wealth Institute. Mr. Ackerman previously served as Senior Vice President and Senior Investment Management Consultant at Morgan Stanley Smith Barney for five years.
A graduate of UC Santa Barbara in 1994, Mr. Ackerman holds a B.A. in Communication Studies.
Mr. Ackerman is the Chairman of the Board of Hope Heals and he serves on the Board of Directors for both The Los Angeles Fire Department Foundation and Chrysalis. He volunteers as a mentor to foster youth and is a former executive board member of the mentoring organization, Impacting Hearts. Mr. Ackerman regularly speaks about financial planning and stewardship at churches, conferences, and the USC Cecil Murray Center Faith Leaders Institute.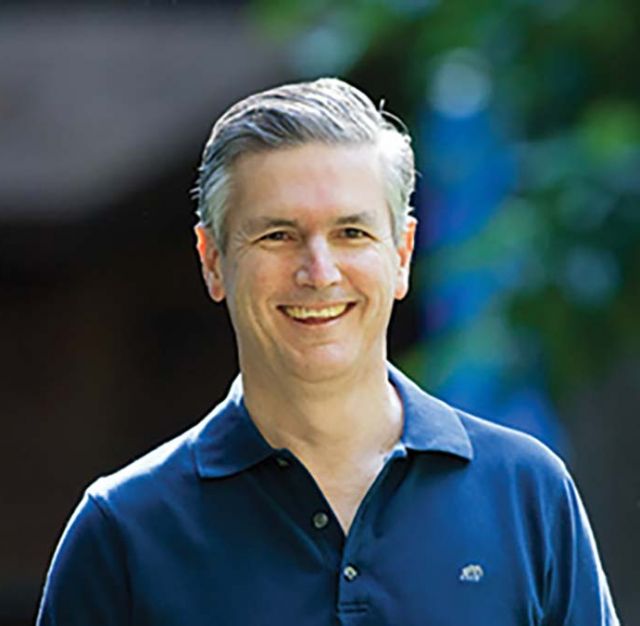 Rafael R. Costas, Jr. '86
Mr. Costas is the Senior Vice President of Franklin Templeton Investments and Senior Vice President of Franklin Resources, Inc. He has been with Franklin Templeton in various roles his entire career, starting in 1986. Rafael is also Co-Director of Franklin Templeton's Municipal Bond Department.
A graduate of UC Santa Barbara in 1986, Mr. Costas holds a B.A. in Economics. He then continued at UCSB to earn his M.A. in Business Economics in 1993.
Mr. Costas is an Advisory Board Member for the San Francisco Sinfonietta.
Mitchell Kauffman '77
Mr. Kauffman graduated from UC Santa Barbara in 1977 with a dual Business Economics and Political Science. He went on to earn an MBA from the Drucker Center at Claremont University, followed by a Certification in Financial Planning (CFP), and Masters of Science in Wealth Management from the College of Financial Planning. After over 35 years building, managing, and then selling his own independent advisory firm, Kauffman Wealth Management Inc., Mr. Kauffman is thrilled over returning to UCSB to share his professional experience with students.
The undergraduate courses he created and offers include: Ethical Investing to Impact Social Change (RS 190EI), Wall St. Ethics (RS 190WE), and Have Ethics Gone Awry? (RS 190GA). In addition, Mr. Kauffman conducts several courses within the Strategic Investment Program: Exchange Traded Funds & Portfolio Construction (Econ x499.10), Impact Investing (Econ x499.12) and Financial Crises & Business Cycles (Econ x499.11).
Mr. Kauffman resides in Santa Barbara with his family and is an avid alpine skier.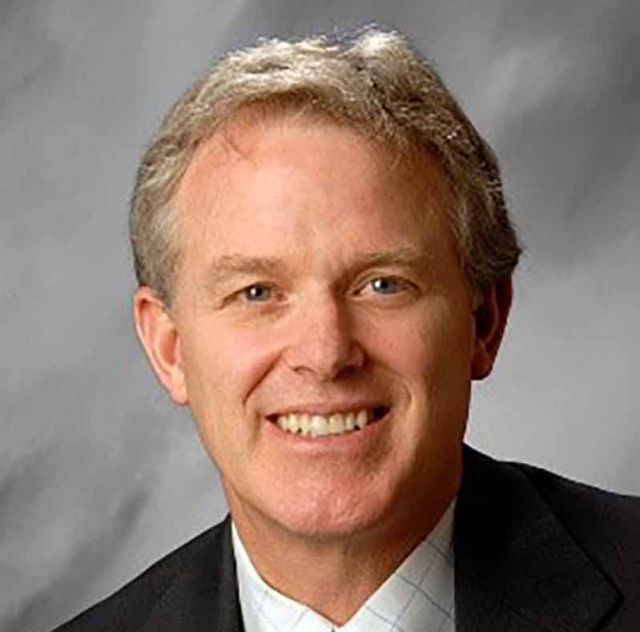 Rod Scherba '79
Mr. Scherba graduated from UCSB in 1979 with a B.A. in Business Economics. He is retired from a 34 year career in Commercial Real Estate. Before retiring he was one of the top broker/advisors in Silicon Valley representing technology companies and landlords in the valley including Facebook, LinkedIn, Uber, and Stanford University amongst many other companies and landlords. Mr. Scherba currently spends his time with his wife and two adult children (when they're not too busy), teaching and advising UCSB econ students, biking, skiing, surfing, paddle boarding, golfing, hiking, traveling (when not in COVID lockdown), and playing the guitar with his classic rock band.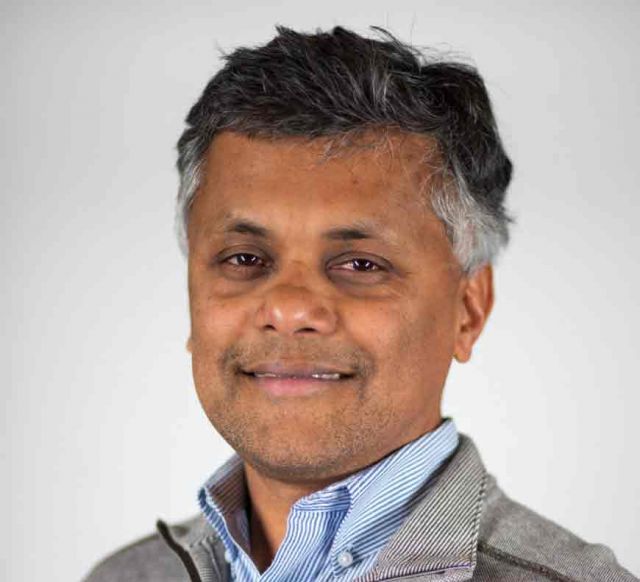 George Tharakan
Mr. Tharakan is the co-founder and chief investment officer of Alamar Capital Management, a private wealth management firm in Santa Barbara. Prior to becoming an investor, he was an engineer at Intel Corporation where he designed microprocessors. Mr. Tharakan is currently the Co-Chair of the CFA Institute - Santa Barbara Chapter and a member of the Santa Barbara Angel Alliance, a group that assists & invests in entrepreneurs in Santa Barbara.
Mr. Tharakan graduated from the Indian Institute of Technology (IIT) as the top student in his department, obtained an M.S. in Computer Engineering from the University of Illinois, and received an MBA in Finance, with Honors, from the Anderson School of Business (UCLA).
Michael J. Trovato '95
Mr. Trovato is the Director of the Western Region at Wellington Management. Prior to joining Wellington, Mr. Trovato was PIMCO's executive vice president in the London office and the head of product management in Europe, the Middle East, and Africa (EMEA). Previously, he was the head of the EMEA sub-advisory and UK multinational bank business within the global wealth management group. He has also held roles as a credit product manager in EMEA and as an institutional account manager based in Newport Beach.
A graduate of UC Santa Barbara in 1995, Mr. Trovato holds a B.A. in Business Economics. He then went on to earn an M.B.A. from the Marshall School of Business at the University of Southern California and has over 20 years of investment experience.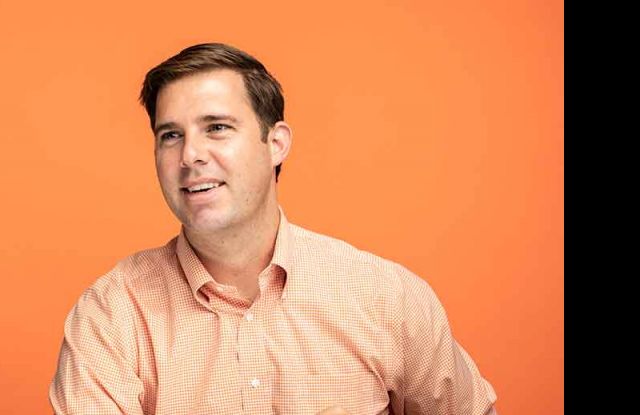 Jeffrey Youngman '07
Mr. Youngman graduated from UC Santa Barbara with a degree in History, and a minor in Sports Management, in 2007. He later pursued a Master's degree in Business Administration. Mr. Youngman is currently an Investment Officer with the University of California Office of the Chief Investment Officer, where he is a member of the public equity team responsible for managing over $70bn in assets on behalf of the Endowment and Pension for the University of California, a position he has held since 2018. His prior roles in the investment industry include being an Investment Officer at the Contra Costa County Employees' Retirement Association where he oversaw public markets and risk, a member of the institutional exchange traded funds strategy group at BlackRock, and an investment consultant to large institutional investors with Milliman. He began his investment career in Santa Barbara with an internship at (what was then) Smith Barney.
Mr. Youngman is based in the Bay Area. In 2017 he was named one of the "40 Under Forty" by the Chief Investment Officer Magazine ai-CIO, and was presented the "Emerging Leader" award by the Institutional Investor Institute.